The Black population of the United States is diverse. Its members have varied histories in the nation – many are descendants of enslaved people, while others are recently arrived immigrants. The Black population also has nuanced ethnic and racial identities reflecting intermarriage and international migration. As a result, there are key distinctions in demographic and economic characteristics between different parts of the national Black population, highlighting its diverse multitude of backgrounds.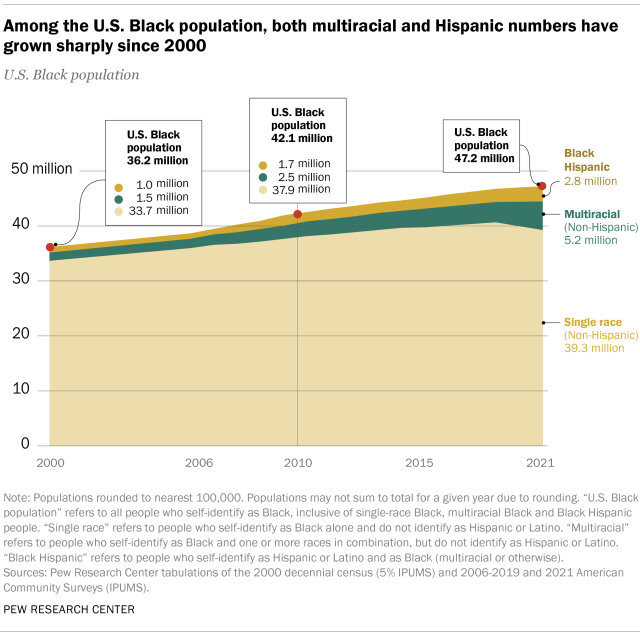 The U.S. Black population is also growing. In 2019, 46.8 million people in the U.S. identified their race as Black, either alone or as part of a multiracial or ethnic background. That is up from 36.2 million in 2000.1 The Black share of the U.S. population is higher today than in 2000 as well. About 14% of the national population said they were Black in 2019, up from 13% who did so in 2000.
At the same time, the Black population's racial self-identification is changing. Among those who self-identify as "Black or African American," the share who say it is their only racial or ethnic identification has declined over the past two decades. In 2019, 40.7 million, or 87%, identified their race as Black alone and their ethnicity as non-Hispanic, while around 3.7 million, or 8%, indicated their race was Black and another race (most often White) and not Hispanic. Another 2.4 million, or 5%, self-identified as both Black and Hispanic, or Black Hispanic.2But these shares have changed since 2000. Then, 93% identified their race and ethnicity as Black alone.
The nation's Black population is changing in other ways too. A growing share are foreign born, the population is aging (though some segments are significantly younger), and a growing share are college graduates. These trends and more are explored in this report. Accompanying it is a fact sheet showing the demographic and economic characteristics of the nation's Black population in 2019, based on the U.S. Census Bureau's 2019 American Community Survey. Findings for all Black people, non-Hispanic single-race Black people, non-Hispanic multiracial Black people and Black Hispanics are shown separately. A downloadable spreadsheet of findings is also available.